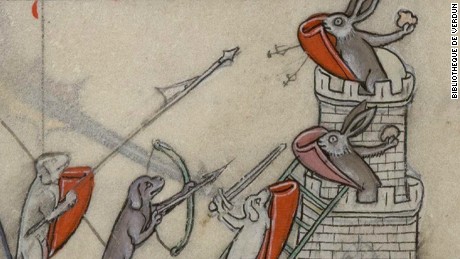 (CNN)Rabbits: cute, fluffy creatures; big ears, big teeth. Harmless? Wrong.
In the medieval period they were fierce, sword-wielding
Leporids
, happy to take on the rest of the animal kingdom — including humans.
Rabbits riding lions, rabbits riding humans, rabbits mutilating poor hapless knights in shining armor. Who knew "
Monty Python and the Holy Grail
" could be so prescient?
Read more: http://www.cnn.com/2016/06/14/arts/medieval-subversive-art/index.html