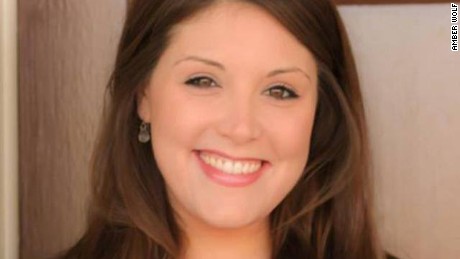 (CNN)Amber Wolf's been a lot of things in her life: Lawyer, mom, cop's wife, judge. Now she can add a new title: viral video star.
Buzz has been building around Wolf, a Kentucky judge, over the past couple of weeks after a pair of videos went viral that showed her doing something judges aren't necessarily known for: showing compassion. In one video she's outraged over a woman in her court with no pants, in the other she lets a man appearing before her hold his 1-month-old son for the first time.
It's made Wolf, a district judge in Kentucky's Jefferson County, what they call "Internet famous."
"I don't know how this happened," she told CNN. "This is all mind-boggling to me. It's completely unexpected. It's not something that ever even crossed my mind, that I would ever go viral."
But viral she is, in videos that could alter just slightly how we view the men and women of the bench. The videos and buzz around them could also could drastically change Wolf's life and career path — if she'd let it.
First, came the video of the woman with no pants
The courtroom video footage isn't exactly HD-quality, but you can make out what's going. A woman stands at a podium with her attorney to face Wolf. The woman is wearing a big, grey T-shirt — and seemingly no pants.
She's always wanted to be a judge, even when she was a little girl. It's the type of dream that would almost seem unattainable for someone with a background like Wolf's, which she described as growing up in a family with limited means.
"I come from kind of a lower-income household," she said. "(A legal career) wasn't really something that seemed like an option. Like me going to law school wasn't ever something that was taken seriously until right when I was graduating college and I took the LSAT and did well on it and then applied to law school and got in."
She's a balanced judge
After graduating from the Louis D. Brandeis School of Law at the University of Louisville in 2007, Wolf went to work in the public defender's office, working with indigent defendants. For her it was an excellent entryway into real-world law.
"If you want to go into criminal law, or even to be a trial lawyer, the best place to start out is as a public defender," she said. "Because you get so much experience right off the bat. You are just thrown right into it."
Hold on, time to tackle another legal stereotype. Is being a public defender like it is on TV, where the defendant meets his or her attorney just seconds before stepping into the courtroom?
"It's just like that," Wolf said with a laugh. With so many clients and a finite number of attorneys, extensive lawyer-client prep time is a luxury most don't get to enjoy.
She left the public defender's office after a couple of years to start her own practice. After dealing with everything from criminal defense, juvenile law, family law and civil law, Wolf joined the Jefferson County Attorney's Office as a prosecutor in 2011. Three years later, she was elected judge.
She feels having worked as both a defense attorney and a prosecutor make her a better judge.
"For me, it helps," she said. "I think I'm a more well-rounded judge. I'm not one-sided. I have the ability to step back and hear both sides and take myself out of either parties arguments and be able to look at it as an outsider because I understand both sides."
Hollywood is NOT in her future
Wolf admits her social media fame has been fun, but don't worry, this Kentucky judge has no plans to go Hollywood.
"I have received some offers (about doing a TV judge show), that I've not taken seriously at all," she said. "I can't do that. That's not a possibility. That would be such a conflict of interest. The job that I do is to improve our communities, to be an arbiter of justice and you can't do that for entertainment purposes."
Wolfe said TV judge shows like "Judge Judy," while they aren't fake, are more of a "handpicked" version of reality.
"Those aren't really the people that would normally be going to that courtroom," she said.
Wolf can't pick the people who appear before her. And besides the reality of Wolf's courtroom is not nearly as riveting.
"Nobody can come into my courtroom and video what I do on a daily basis and make that into a TV show. It's not entertaining at all. Yes, of course we have our funny moments and crazy moments and sad moments and things that you could grab onto, but that's not the purpose of it."
"And I think it would be such a conflict of interest and make my constituents question whether or not the decisions I made were for entertainment purposes or because that was the right thing to do. And my goal, as a human and as a judge is to try to do the right thing."
Read more: http://www.cnn.com/2016/08/12/us/judge-amber-wolf-profile-trnd/index.html