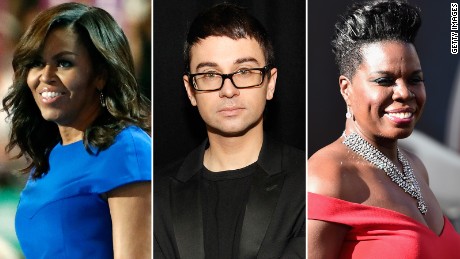 (CNN)Even the fashion choices of speakers have become political at the national party conventions.
The first lady pushed diversity and denounced divisive rhetoric from "politicians we see on TV," intepreted as a reference to GOP nominee Donald Trump, while wearing a classic cobalt blue dress designed by New York-based fashion designer Christian Siriano.
Siriano is a gay rights activist and a former "Project Runway" winner who has made inclusion in the fashion world a personal crusade, designing dresses for women of various shapes and sizes in an industry that usually favors one type of body.
It's also another example of Obama spotlighting emerging, accessible and diverse American fashion designers. During her years as first lady, Obama has worn items from Jason Wu to J. Crew in her high-profile appearances.
Previously, Siriano also designed the black dress that the first lady wore to the memorial service for slain police officers in Dallas.
Siriano made headlines on the issue of body image following a tweet by actress Leslie Jones, who said that designers did not want to dress her for the July 9 "Ghosbusters" movie premiere because the African-American actress does not fit into the small sample sizes employed in the fashion industry.
"It's so funny how there are no designers wanting to help me with a premiere dress for the movie," Jones tweeted.
Tweeting a hand-waving emoji back at the actress, Siriano jumped at the opportunity to dress her, and designed an off-the-shoulder, sleek red gown with a slit inspired by Julia Roberts' character in "Pretty Women" that Jones wore to the premiere.
"It shouldn't be exceptional to work with brilliant people just because they're not sample size," Siriano tweeted. "Congrats aren't in order, a change is."
The first lady's fashion choice is not the only one turning heads at the conventions.
Ivanka Trump, who has her own fashion line, wore one of her pale pink dresses to introduce her father, Republican presidential nominee Donald Trump, at the Republican National Convention on Thursday night.
A day after delivering her speech, Ivanka Trump
marketed
her look on Twitter.
Actress Eva Longoria, who spoke at the Democratic convention Monday night,
launched a collection
with fashion retalier "The Limited" that includes the white cap sleeve dress she wore in Philadelphia. She, too, promoted it on Twitter after her convention appearance.
Read more: http://www.cnn.com/2016/07/26/politics/michelle-obama-christian-siriano-dress-convention/index.html