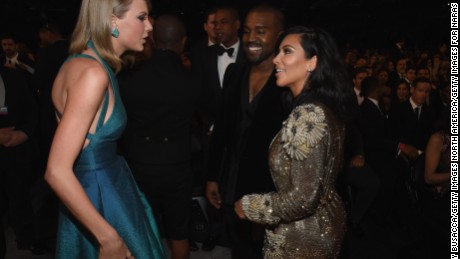 (CNN)The love for Taylor Swift from fans is "Famous." But so are some of the difficulties she has had with fellow stars.
Swift's current feud
with Kim Kardashian West and her husband, Kanye West, is merely the one everyone is currently talking about.
To be fair, Swift is one of the biggest stars on the planet.
So just about any skirmish she's involved in becomes a "thing."
Here are a few of Swift's high profile beefs.
Kanye West
Naturally, we have to start with what's probably her most epic.
In 2009, West interrupted Swift's MTV Video Music Awards acceptance speech with "I'll let you finish, but Beyonc has one of the best videos of all time!"
The result was massive fallout for the rapper. Even President Obama called him a "jackass."
Swift and West had appeared to be on the mend following the 2009 incident. He event sent her flowers last year.
Awwww Kanye sent me the coolest flowers!! #KanTay2020 #BFFs
But that ended after the release of his "Famous" single from his "Life of Pablo" album. Ye tweeted that he "had a hour long convo with her about the line and she thought it was funny and gave her blessings."
Swift denied that via her rep.
"Kanye did not call for approval, but to ask Taylor to release his single 'Famous' on her Twitter account," her rep said at the time. "She declined and cautioned him about releasing a song with such a strong misogynistic message. Taylor was never made aware of the actual lyric, 'I made that bitch famous.'"
Calvin Harris
The superstar DJ and music producer Calvin Harrisfamously dated Swift for more than a year before the pair broke up in June.
Harris didn't like his ex appearing to take sole credit for his jam.
The result was some salty tweets fromHarris. "I know you're off tour and you need someone new to try and bury like Katy ETC but I'm not that guy, sorry. I won't allow it," Harris wrote in one. And another: "Please focus on the positive aspects of YOUR life because you've earned a great one."
Katy Perry
"For years, I was never sure if we were friends or not," Swift said. "She would come up to me at awards shows and say something and walk away, and I would think, 'Are we friends, or did she just give me the harshest insult of my life?' Then last year, the other star crossed a line," Swift recalled. "She did something so horrible, I was like, 'Oh, we're just straight-up enemies.' And it wasn't even about a guy!"
Neither has confirmed or denied that Perry was the one.
Nicki Minaj
There is just something about Swift and rappers.
Last year, Nicki Minaj vented that her hit "Anaconda" was not nominated for video of the year at the MTV Video Music Awards. (Swift was nominated, and took home the trophy, for "Bad Blood.")
Minaj tweeted, "When the 'other' girls drop a video that breaks records and impacts culture they get that nomination" and "If your video celebrates women with very slim bodies, you will be nominated for vid of the year."
Swift took Minaj's tweet personally. "I've done nothing but love & support you." Swift tweeted. "It's unlike you to pit women against each other. Maybe one of the men took your slot."
Quicker than you could say "Girl, what are you even talking about," a full-blown social media feud had erupted.
Many Twitter users defended Minaj.
The pair eventually made up and even performed together at the Awards show.
Demi Lovato
Singer/actress Demi Lovato took heat after her tweets in support of singer Kesha's sexual abuse claims were taken as jabs at Swift, who had donated $250,000 to the "Tik Tok" singer.
Lovato tweeted, "Women empowerment is leading other women to make actual changes in our society" and "Take something to Capitol Hill or actually speak out about something and then I'll be impressed."
But she did not back down from her criticism.
"Listen, there's nothing positive that comes from pitting women against each other,"Lovato said. "There are women that I don't get along with, and that's fine. My thing is, don't brand yourself a feminist if you don't do the work."
Tina Fey and Amy Poehler
Comedic bffs Tina Fey and Amy Poehler mocked Swift's love life during the 2013 Golden Globes, and the singer did not take kindly to it.
"You know, Katie Couric is one of my favorite people because she said to me she had heard a quote that she loved, that said, 'There's a special place in hell for women who don't help other women,'"
Swift told Vanity Fair.
"I am a feminist, and she is a young and talented girl," Poehler said. "That being said, I do agree I am going to hell. But for other reasons. Mostly boring tax stuff. "
Fey told Entertainment Tonight she didn't see Swift's reaction coming.
"It was a joke, and it was a lighthearted joke,"
Fey said.
"And it's a shame that she didn't take it in the crazy-aunt spirit in which it was intended."
Read more: http://www.cnn.com/2016/07/19/entertainment/taylor-swift-kardashian-celeb-beefs/index.html