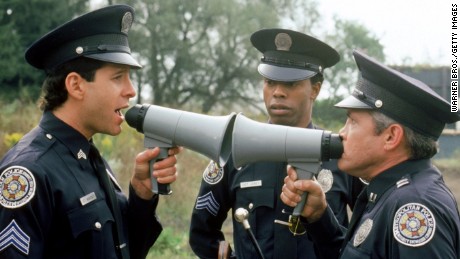 (CNN)This week, a former president at a national convention decided to share with about 30 million of his closest friends a story about his daughter, the importance of meaningful parenting and a movie series that kept him laughing, relaxing and enjoying the craft of being funny — funny and good-natured.
Bill Clinton didn't choose the obvious great movies, "Ghostbusters," "Star Wars," "Stripes," Blake Edwards' films, or any Mel Brooks film like "Blazing Saddles."
When I was filming "Home for the Holidays," I had an opportunity to visit the White House and see Bill. One of the stories he told, was that he had had a challenging few days, and turned to the six-movie package of "Police Academy" with his daughter Chelsea. It was a distraction of the highest order.
Now, I've admired his special ability to be mindful, to be present. His attention is elevated. He is the top of the ladder, and authentic. It was thrilling to hear him say it, but the meaningful takeaway was the importance of rest, rejuvenation and recreation for all of us, in or out of the White House.
A president who had lots to be responsible for knew that watching comedy could provide relief and feed the imagination. And wouldn't we like imagination in all the fine people who run the government?
But the crux of this example is how important art is: How we have to value our artists, whether they specialize in painting, sculpture, poetry, song, dance or film.
Entertainment, effective entertainment is as important as commerce. It's a needed relief from responsibility, where the imagination flies, where people can enjoy great art, whether in a museum, a hall or a theater. All of us need and thrive on fiction. Not reality, but fiction, to rest the mind.
And the walk from the dark of the theater, to the light of the day, gives us the grease to make one glide.
Read more: http://www.cnn.com/2016/07/29/opinions/police-academy-opinion-guttenberg/index.html