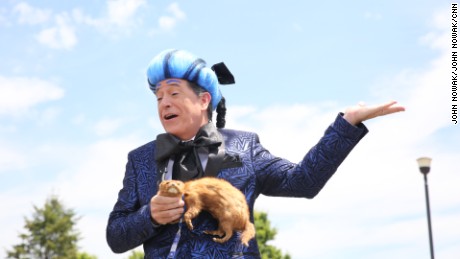 New York (CNN)And now he takes over the DNC.
After a week at the Republican National Convention, "Late Show" host Stephen Colbert emerged in Philadelphia on Sunday clad as "Hunger Games" announcer Caesar Flickerman, just like how he marked his stay in Cleveland.
"What's fun to watch is that he's so in character and so funny. He goes through different jokes, tries different stuff."
But as soon as they did a cut, Colbert stepped out of character and talked to the producers and camera people to make sure the joke worked.
Read more: http://www.cnn.com/2016/07/25/politics/stephen-colbert-democratic-national-convention/index.html