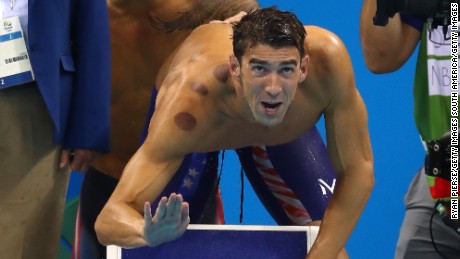 (CNN)No, those purple spots viewers first noticed on Michael Phelps' back last weekend weren't telltale signs of Zika, or hickeys from the night before. As the media zoomed in, the world soon learned they were the result of a traditional Chinese technique called cupping, and as you might have heard by now, it's got quite a following among Olympic athletes.
As an American physician trained in the standard "allopathic" (that is, mainstream) regime, I'm inclined to roll my eyes. I'm skeptical, but open-minded enough to know not everything I do comes with a sterling base of, uh, evidence.
You see, all the Olympic excitement about cupping, which has me rubbing my chin, comes directly after a wave of news headlines calling into question another funny-looking health routine Westerners have dutifully performed since the early 1800s: flossing. Did these two treatments get to where they are in 2016, despite faults, due to valuable evidence or simple belief? We know the mind has the capacity to palliate itself, so are cupping and flossing just features of a healthy imagination?
Cupping is practiced outside the mainstream, but flossing is part of the American oral health pantheon, touted for years by the dentists and hygienists
we've long thanked
for setting our nation's smiles apart from others.
Read more: http://www.cnn.com/2016/08/10/opinions/cupping-flossing-medical-treatments-michael-phelps-vox/index.html