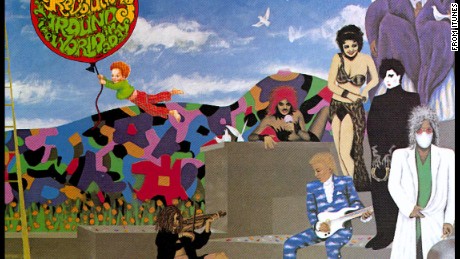 (CNN)"Aristocrats on a mountain climb / Making money, losing time / Communism is just a word / But if the government turn over / It'll be the only word that's heard / America, America / God shed his grace on thee."
Have you heard this Prince song? It's titled "America" and is from the 1985 album "Around the World in a Day," which was released exactly 31 years ago today. In the era of the crack epidemic, the alleged war on drugs, HIV/AIDS, and Reaganomics, which pushed the country's national debt into the trillions, Prince made pointed critiques about American life.
The theme of "Temptation" reminded me of 1981's "Controversy," where he sang, "Am I straight or gay? / Controversy / Do I believe in God, do I believe in me?" The passion of "Temptation" and "Controversy" were my stories and Prince made me feel not so alone.
For hours, I would stare at the cover of the "Around the World in a Day" album, mesmerized by the image of a woman who had a condition of the heart, the young boy flying on a balloon and the man in all black clenching his tambourine.
I imagined that was exactly what Paisley Park would be, a space of interconnecting stories. But the image that I could never forget was the ladder in the center of the album cover, which referred to my favorite song on "Around the World in a Day." In "The Ladder" Prince sang, "Everybody's looking 4 the ladder / Everybody's looking 4 the answers / How the story started and how it will end / What's the use in half a story, half a dream / U have 2 climb all of the steps in between."
In my lowest of moments, the gospel-type song would free me. Whether it was sex, God, race, or class, Prince brilliantly manifested my own story on the nine songs in "Around the World in a Day." Prince gave me agency to exist in the deepest sense of myself — at any cost.
Maybe that's how it was for you, too.
Read more: http://www.cnn.com/2016/04/22/opinions/prince-around-the-world-in-a-day-cane/index.html