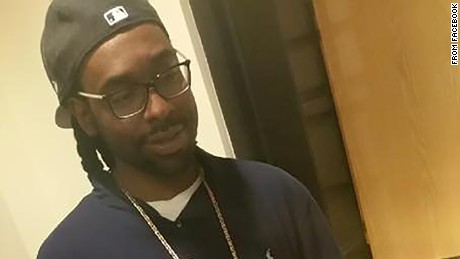 (CNN)Philando Castile was a laid-back guy who worked five days a week and liked to play video games when he came home in the afternoon, his mother said Thursday.
Castile was engaged to be married to Diamond Reynolds, who on Wednesday recorded video of Castile dying after being shot by a police officer in Minnesota.
His mother, Valerie Castile, said her son was the kind of man who would have followed a police officer's orders.
"He's not a gangbanger. He's not a thug. He's very respectable," she said. "And I know he didn't antagonize that officer in any way to make him feel like his life was in danger."
The younger Castile, in his mid-30s, was a quiet man who worked hard as a lunchroom supervisor at a school in the Twin Cities.
"He's a really good person," his mother told CNN's "New Day." "Everybody likes him."
Later in the day, at a rally in St. Paul, Valerie Castile said to know her son was to love him.
St. Paul Public Schools issued a statement, saying Philando Castile was not only a valued and widely loved employee, but a product of the school district, having graduated from Central High School in 2001.
He began working for the school district the next year and was promoted to supervisor two years ago.
"Colleagues describe him as a team player who maintained great relationships with staff and students alike. He had a cheerful disposition and his colleagues enjoyed working with him. He was quick to greet former co-workers with a smile and hug," the statement said.
A co-worker said Castile was quiet, respectful and kind.
"Kids loved him. He was smart, overqualified," the unnamed co-worker said in the school district statement. "I knew him as warm and funny; he called me his 'wing man.' He wore a shirt and tie to his supervisor interview and said his goal was to one day 'sit on the other side of this table.'"
His uncle, Clarence Castile, said he saw the young man on Mother's Day when he brought his fiancee and her 4-year-old daughter to the house. Like always, their conversation turned to Philando's job.
"We ended up talking about retirement, what kind of money he's putting away for his retirement and things like that," Clarence Castile said, adding that his nephew had a really good start on saving money.
Castile had a concealed carry permit, and his mother said when he told her that he wanted to get a gun, she told him, "Go and get your license."
Castile's mother said Thursday that he and his sister had stopped by her house earlier Wednesday. During the visit, they had discussed the dangers of carrying weapons, even though both of them have concealed carry permits.
"I really don't even want to carry my gun because I'm afraid that they'll shoot me first and then ask questions later," Valerie Castile recalled her daughter saying.
She said she had also had conversations with her son about what to do when he was pulled over by police. Valerie Castile said she focused on one word.
"That was something we always discussed: Comply," she said.
Read more: http://www.cnn.com/2016/07/07/us/philando-castile/index.html