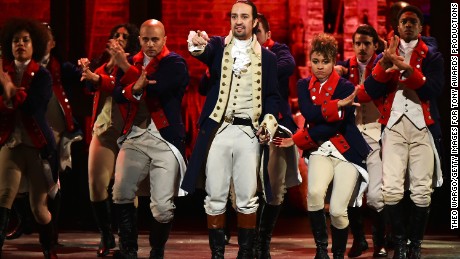 New York (CNN)Former "Hamilton" star Lin-Manuel Miranda made a huge name for himself by rapping the history of America's founding fathers on Broadway.
Now he'll do it drunk.
Miranda, who left the cast of the hit musical last month, will appear on Comedy Central's "Drunk History" this fall. He'll narrate the rivalry between Alexander Hamilton and Aaron Burr.
The show features celebrities who give history lessons while completely obliterated. It sounds hilarious: Miranda as Hamilton rapping about fighting the British and defending the constitution while intoxicated.
Series creator Derek Waters announced the news at Comic-Con on Thursday.
Ironically, "Hamilton" was the subject of the first episode of "Drunk History," which got its start on the "Funny Or Die" web series in 2007.
"Drunk History" is set to return September 27. Other guests include Kat Dennings, Dave Grohl, Ed Helms and Liev Schreiber.
Read more: http://www.cnn.com/2016/07/22/entertainment/lin-manuel-miranda-hamilton-drunk-history/index.html