The Michael Jordan Crying Face meme has yet to hit its peak. It has reached No. 1-single status within the meme world and it still keeps soaring and evolving. Here's the latest: Our favorite sports photo ever is now a transformational learning tool for people who don't understand how the Internet works.
Rapper Ja Rule is one of those people. On Monday, he was duped by a TMZComedy article called "Michael Jordan Earns $1 Dollar Everytime [sic] Crying Meme Shared on Facebook/IG." He was psyched to share the news via Twitter, holding up another example of why Jordan's the greatest even when he's vulnerable.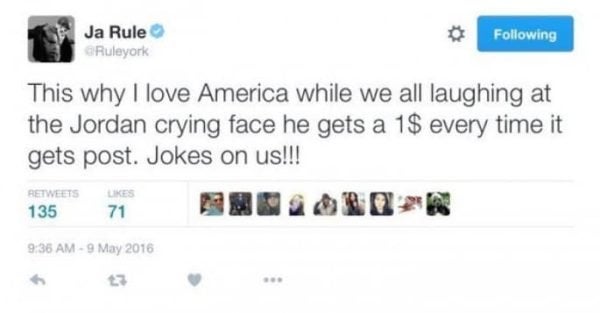 This is, of course, not true. Jordan earns his billions in many ways, but the meme economy is one industry he has yet to monetize despite his overarching presence.
What is now true, however, is that the joke is on Ja Rule. He's a public figure, and when public figures screw up in a public forum, the public responds thusly: by inflicting the pain of many Michael Jordan Crying Faces onto its target.
Every single one of the above memes is funny. It's why the Michael Jordan Crying Face is the G.O.A.T. meme. At this point, there's no greater honor than being relevant enough for the Internet to divert its full attention and Photoshop skills onto your person.
Ja Rule was certainly flattered:
What a way to learn about screen-grabbing and Internet behavior. Salute, Ja Rule.
Read more: http://www.huffingtonpost.com/2016/05/10/ja-rule-claimed-mj-gets-paid-for-the-crying-face-meme-and-well-you-know_n_9890336.html