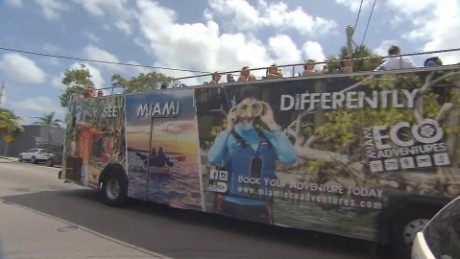 Miami (CNN)Melanie Fernandez didn't expect to be wearing long-sleeved shirts in the scorching heat of a South Florida summer.
But Fernandez, who's 20 weeks' pregnant, says she isn't taking any chances now that more than a dozen cases of
Zika
have been found in her city.
"I'm OK walking around in long-sleeved shirts and jeans and dying in the heat if it means my child is going to be OK. … All I can do, up to now, is just be on the defensive everywhere I go," she told CNN.
Days after the CDC warned people not to travel to a one-square-mile area in Miami where Zika was found, reactions from residents and businesses remain mixed.
Fullilove, who lives about a mile south of Wynwood, says she stopped walking her dog at night, started covering up with long sleeves and tried to keep everything in perspective.
"There's no guarantees. You have to be safe. You have to take precautions and just stay positive," she says. "It's not good to be a scared pregnant lady for your baby either."
Dr. Lauren Abern, an obstetrician and gynecologist at the University of Miami, says her office has been inundated with phone calls and emails from worried patients. They have good reasons to be concerned, she said, and she's advising patients to wear mosquito repellent, to stay covered when they're outside and to steer clear of the part of the city where officials have said there's been Zika exposure.
"The concern is that right now it's in the Zika zone, which is a pretty small area, but it could spread," she said.
A shrine and a sign
Some Miami residents have taken a more light-hearted approach as concern over Zika grows.
A restaurant welcomed customers with a sign boasting cold beer, Italian wine and "pizzika" pizza.
Seen in Wynwood today #miami #wynwood #zika #news #food #pizza #eat #lunch #crazy #funny #special #inthenews
A shrine in a bakery's window aimed to ward off the virus with a sign saying, "Go Away Zika!"
Stuart Chase, president of HistoryMiami Museum, says he snapped a photo of the shrine and shared it on Instagram Thursday as part of efforts to research and document the situation.
As incense burned in the window, he says, customers streamed in and out of the bakery.
Helping the homeless
As TV camera crews followed him through Wynwood this week, Miami Mayor Tomas Regalado reassured residents that the area is safe.
But authorities stressed they're not taking the situation lightly.
Police canvased Wynwood, handing out brochures about the virus and its symptoms. They also passed out cans of bug spray to homeless people and others on the streets.
Officials are spraying the area with pesticide and are on the lookout for additional cases of the virus, Miami-Dade County Mayor Carlos Gimenez told CNN Thursday.
"We haven't had any new cases in a couple of days. We also haven't found any mosquitoes that are carrying the virus. … So hopefully this is an isolated case, and then we can contain it," he said. "And we're doing the best we can to make sure that is the case."
Read more: http://www.cnn.com/2016/08/04/health/zika-miami-wynwood/index.html