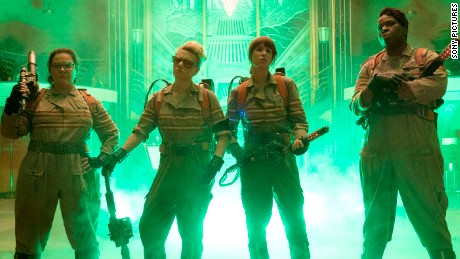 (CNN)The stars of the female "Ghostbusters" movie have shed their overalls for something a little fancier.
Melissa McCarthy, Kristen Wiig, Kate McKinnon and Leslie Jones appear
in the July 2016 issue of ELLE
and they clean up nice. It's the magazine's first Women in Comedy issue and each of the women got both a cover image and their say.
McCarthy confesses that "I get so psychotically attached to all of my characters, and I fight for them in probably the most annoying way."
"I know it's such an actory thing, but I feel it to my core: I have to represent the woman I'm getting to be," she said. "Even if she's fictitious, she's always real to me: three-dimensional, flawed, loving, screwed-up, as real women are."
Wiig is interviewed by friend and fellow "SNL" alum Will Ferrell and talks of her nervousness performing the first sketch she'd written for the live late-night show.
"I was scared that I was going to freeze or swear or pass out," Wiig said.
Jones said she knew it "was just a matter of time" before she was discovered.
"I didn't know what was going to actually happen this is definitely way bigger than I thought but I knew there was no way I was going to be that funny and nobody was going to notice it," she said.
As for McKinnon, she gets asked abut her spot-on imitation of pop star Justin Bieber.
"I came to a reckoning that [pretending to be other people] is in fact such a real, huge chunk of the way I communicate," she said. "I thought it was something I was putting on to disguise something else, but it's not."
Read more: http://www.cnn.com/2016/06/08/entertainment/ghostbusters-cast-elle/index.html