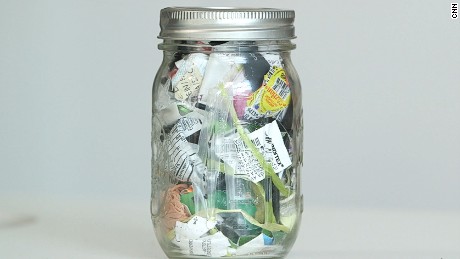 (CNN)Meet Lauren Singer, a regular New Yorker with one key difference — a zero waste lifestyle … and she's got a jar to prove it.
"Within the past four years all the trash that I've produced can fit within a 16 oz mason jar," says Singer, whose blog
Trash is for Tossers
shines a light on how to live sustainably.
She says compared to the average American, who produces on average around 4.5 pounds (two kilos) of trash per day, she's saved over 6,000 pounds (2,720 kilos) of it from going to landfill sites.
"I do compost and recycle but only as a last resort — I try to avoid packaging at all costs," says the 25-year-old.
Saying goodbye to plastic
It all started when she was studying Environmental Science at New York University, when she discovered her passion for sustainability was limited to the classroom.
"One day I went home after class and opened my fridge to make dinner, and I realized that every single thing that I had in there was packaged in plastic."
Read more: http://www.cnn.com/2016/07/04/us/lauren-singer-zero-waste-blogger-plastic/index.html