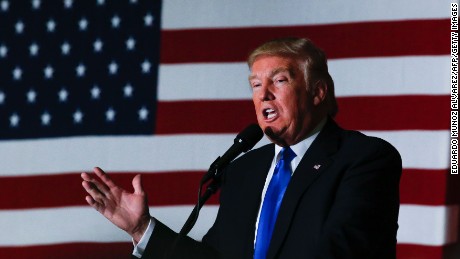 Los Angeles (CNN)Donald Trump admitted Wednesday that he used aliases for business deals but denied that a recently-surfaced audio recording of him pretending to be his own publicist was really his own voice.
"You know, over the years I've used aliases. And when I'm in real estate and especially when I was out in Brooklyn with my father and I'd want to buy something," Trump said on ABC's "Jimmy Kimmel Live!"
"I would never want to use my name because you had to pay more money for the land. If you tried to buy land, you used different names," he said.
Asked which names he used, Trump said he liked the name "Barron," which he named his now 10-year-old son.
"I made a very good deal using that name," Trump said, without offering specifics about the deal. "I used an alias in terms of setting up a meeting with Mr. Donald Trump, and it was, and many people in the real estate business do that. You use aliases, and you have to do it. Otherwise they find out it's you, and they charge you more money and nobody wants to pay more money."
Michael Briggs, a Sanders spokesman, said that Kimmel allowed the Sanders campaign to submit a question to Trump to be asked during the taping — so they asked about a potential debate.
Briggs says that he expects that Trump will be allowed to do the same thing when Sanders tapes Kimmel Thursday night.
Trump, as he's often done before, said that as a businessman it was smart to "speak well of everybody."
Read more: http://www.cnn.com/2016/05/26/politics/donald-trump-aliases-jimmy-kimmel/index.html