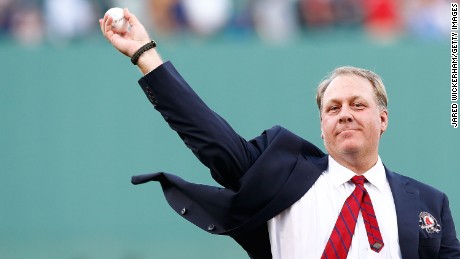 (CNN)"I'm loud, I talk too much, I think I know more than I do, those and a billion other issues I know I have. Like every one of you I have flaws, but I'm OK with my flaws, they're what make me me," Curt Schilling posted on his blog Tuesday, a day before he was fired from ESPN after another of his social media rants, this time against transgender people.
Roxanne Jones, a founding editor of ESPN Magazine and former vice president at ESPN, has worked as aproducer and as a reporter at the New York Daily News and The Philadelphia Inquirer. She was named a 2010 Woman of the Year by Women in Sports and Events. Jones is a co-author of "Say It Loud: An Illustrated History of the Black Athlete" and CEO of the Push Marketing Group. The opinions expressed in this commentary are solely those of the author.
Not fair, you say. What about freedom of speech, you ask?
Well, the huge difference is Schilling is not like most of you. The day he walked off the mound and decided to collect a paycheck as a baseball analyst, he gave up his right to publicly rant about just any subject that popped into his head.
Because while the public may care very much about his expert baseball insights and opinions, his uninformed, biased opinions on everything from Muslims to Nazis to
Hillary Clinton
and her emails, and now transgender communities, have added nothing intelligent to any conversation, sports or otherwise.
Read more: http://www.cnn.com/2016/04/21/opinions/curt-schilling-espn-jones/index.html