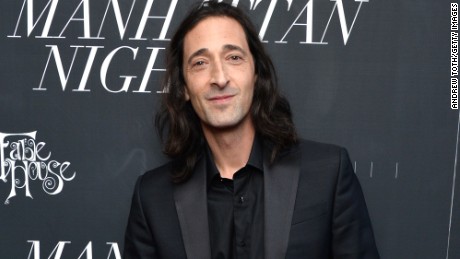 (CNN)Actor Adrien Brody thinks art can be separated from the artist.
Both Allen and Polanski are celebrated directors who have faced accusations of sexual assault of young women and both are back in the news recently because of those allegations, as well as the Cannes Film Festival. Polanski was the subject of a rape joke made by French comedian Laurent Lafitte at the festival. The director plead guilty to unlawful sex with a minor in a case involving a 13-year-old girl and fled the United States in 1977 rather than face possible jail time.
Allen's son, Ronan Farrow, penned an essay titled "My father, Woody Allen, and the danger of questions unasked," which was published the day Allen's film "Cafe Society" opened Cannes.
In the essay, Farrow discussed his sister's accusations that Allen abused her — allegations he has consistently denied.
Brody has worked with both Allen and Polanski, and told McCarthy, "Life is very complicated."
"I look to collaborate with artistic people and to go into an endeavor without judgment and to hopefully be treated with the same," he said. "It's an artistic pursuit, and Polanski, for instance, had a very complicated and difficult life. It would be unfair of me to delve into something as complicated as the past that was brought up in the media."
Brody, who won a Best Actor Oscar in 2003 for his role in "The Pianist," said he thinks an artist's personal life can be separated from their work "to a certain extent" and that "people make mistakes in lives."
When asked about the issue of Allen still being celebrated and able to work while Bill Cosby's career has been harmed amidst allegations of sexual misconduct from dozens of women, Brody said, "I don't even read about these things, to be honest. I choose not to indulge this kind of fodder."
"I think there's a lot of catastrophe in this world and a lot of cruelty and a lot of carelessness," Brody reportedly said. "Of course it's horrible what comes out sometimes, and people have done things in their lives that may be inexcusable, but it's not something to focus on."
Read more: http://www.cnn.com/2016/05/17/entertainment/adrien-brody-woody-allen-sexual-allegations/index.html